My previous post is about the massive clearing operations currently going on in
the city of Manila, the capital of the Philippines.  Manila is just one of 16 cities of Metro-Manila.  Non-Filipinos  and  Filipinos from other parts of the country call the whole metropolis " Manila", but  residents of  Metro-Manila  specify where exactly they come from….  like Quezon City, Paranaque City, Makati City, etc.  On my previous post,  I said  I was born in Manila.  Actually, I was born in Paranaque City, just a taxi ride away from Manila, 25  minutes without traffic,  2 hours with traffic. lol
Map of Metro-Manila, Philippines
Now, about the title of this post….
The Philippines' Supreme Court had come out with a milestone decision on  the use of roads, sidewalks, and open spaces ( parks ) located in private subdivisions.  Basically, it says these so-called private  roads, etc. should be opened to the public. However,  though public,  all roads , sidewalks and parks  are " BEYOND THE COMMERCE OF MEN. " In other words, no one can use these places other than what they are intended for.  The phrase " beyond the commerce of men"  is the ground these massive clearing operations stand on…… demolish all encroachments and obstructions, kick out illegal vending on sidewalks and streets. ( Ah, no more street food, eh ? )
Below is a structure built on the sidewalk… clearly a violation  of  national building code, and can be demolished even without  the  Supreme Court's mandate.  Note : demolition workers lack proper equipment… it's mano-mano, meaning literally by hand and it's quite dangerous.  The city does use payloaders and jackhammers in some areas. but not enough for the whole city.
Above photo shows city workers  removing  food carts off a sidewalk.
Below is road clearing. Note: vendors occupy the street, then same street partially cleared… ( not enough, in my opinion… but , it's better than nothing.)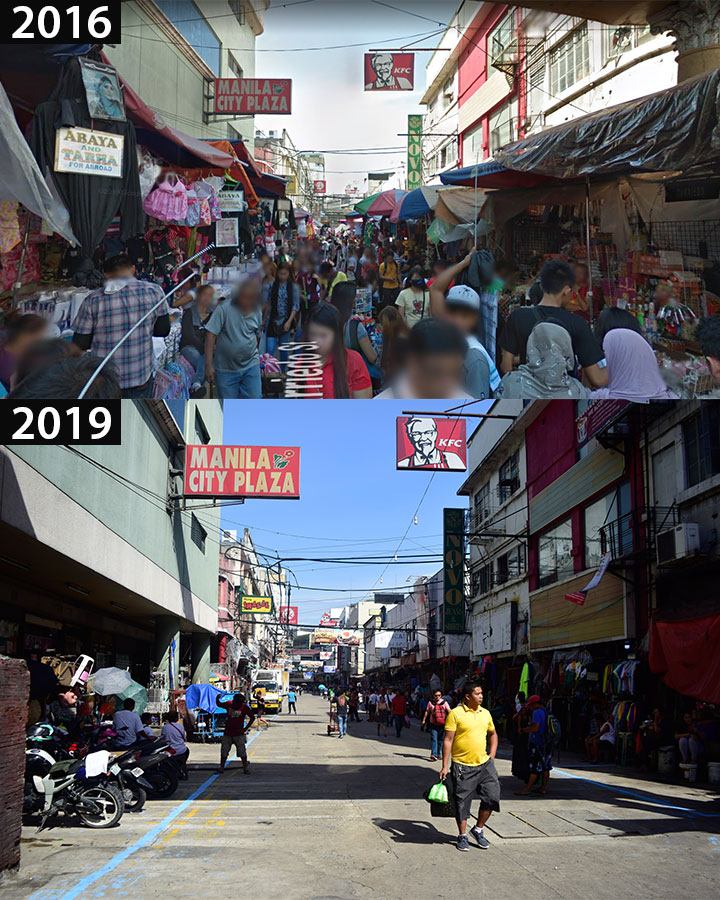 I highly doubt Manila would be completely cleared .  Anarchy in the streets has been so  tolerated for  decades it's become part of  Manila culture . They say it  would take at least 2 generations to completely wipe this off the people's psyche.  My parents remember a clean city, with wide avenues lined with century old trees, such as  Taft Avenue, Manila's main thoroughfare.  Then the trees were taken out to make way for  a wider road, and later , ( 1984) ,ugly , elevated railroad tracks  were built over it.  ( Metro Rail ) They also remember  there was a loud  outcry over removal of century old trees, but , well, "progress."  Then, old residents of Manila left to live in the suburbs and  posh subdivisions just outside of Manila, and were replaced by people from the countryside with less education,  no job prospects and  housing ……then they built shanties on public lands, and the rest is history. It came to a point where illegal settlers and shanty dwellers have even become defiant  and  caused trouble and violent protests  everytime  well-meaning officials would try to clean up the city.  Previous city mayors had practically given up,  until the new mayor, Francisco Moreno, was elected in July , 2019, and promised to clear up Manila.
I am not so sure about that. Sorry, Mayor Moreno.   A big chunk of the city  looks like shanty town , with old, dilapidated , greasy , built in dirt on buildings,  especially in places like Tondo, and Quaipo,  and patchy-patchy residential houses .  Unless he issues an order for building and home owners to rehabilitate (  aka repaint ) their properties, ( which is dictatorial and too heavy handed, in my opinion ) , no matter how clean the streets and sidewalks are,  Manila will forever remain an unsightly, sad city.  I've seen these places on YouTube…. they look like the photo below…
…. * shakes head *
Above is a common street scene in Tondo, Manila. They build structures without regard for safety. Look  how many floors there are, and they are made of rusty corrugated iron, old wood, etc.   The houses are so unsafe. I assume they don't bother to get a building permit, and authorities don't  bother to inspect.
Don't get me wrong…. the rest of Manila is charming, beautiful, and historical.  In fact, the whole country , all 7,641 islands of it, is one huge tourist spot…….  Pristine islands with white sand and the bluest water  you won't  see anywhere else in the world.
So, how does one solve a problem like Manila ?
People suggest  deal with it with a hand of steel, and it's about time.
Legitimate Manilenos  are already sick and tired of  illegal settlers demanding relocation sites and free housing.  There are already hundreds of government relocation sites with free houses. Well, not exactly free… they pay a staggering   $ 4.00 a month.  I repeat….. FOUR DOLLARS.   (  other cities are already protesting they don't want them there, and tax payers are also complaining that their taxes are spent building houses for these squatters, with no end in sight. )
But…to be fair…. call Manila what you like, but…….
Believe it or not,  residents of Manila have free health care (  free medicines, even free surgeries, free hospitalizations) free public universities,  and senior students in  public  high schools are given PhP 1,000 Cash every month, discounted transportation fares for students,  senior citizen discounts in everything including  movie passes,  plus PhP  500 cash a month….. single parents are also given Php 500 cash. .  It's practically  a welfare state.  That's why poor people from  other places flock to the city.  Hey, fellow Americans, does this sound familiar ?
Another thing… the Philippines has universal health care.
And,
By law, all workers receive a 13th month pay, ( besides their 12 months regular salaries) , and if the employees are lucky, they also get 100 % Christmas bonus from big companies and government  institutions.  In other words, 14 months salaries annually.
And ,  all companies with more than 50 employees , are unionized.  Truckers, drivers ….Yes, unions are strong in the Philippines.  This is the reason why foreign companies don't invest in the Philippines. They hate unions and organized workers, right? Typical.   They go to Vietnam,  Indonesia, and countries where  forming  unions are not allowed. There are only a few countries in Asia ( or Australasia ) where unions are  present .. Australia, Philippines and New Zealand.  CBA or Collective Bargaining Agreement is a very important aspect of doing business in the Philippines.  No sweatshops allowed.  That's why you won't see cheap clothes and stuff  here in the US that are Made in the Philippines.
Oh, wait, where am I going?  My thoughts are going haywire.
I guess it's time to stop now.
PS:
I saw food cart  vendors  in Italy ( or their  merchandise are spread on the ground, mostly  fake brands, ugly souvenirs, etc. ) and hassling tourists.  In England, too.  Hey, Brits, you see them , right ? Yep, been there, saw them myself.   Watch out, Italy and England.     I think it looks worse in India.  Warning !