It's been awhile.  I've been so busy everyday is like a marathon.  I've also been helping clean our rental house when I have the time.  Guys, I did mention that our neighbor contractor  said we'd be out $20 K  easily .  He underestimated the cost of renovation.  It's now inching towards $30 K. My heart goes out to my parents.  I was with my  mother when we bought new fridge, oven, and dishwasher.  We also renovated the two bathrooms . All floorings are new, from kitchen to bedrooms and of of course , the bathrooms.  aaargh.. I don't want to talk about this anymore.
We  already bought the plane tickets for our Philippine vacation in February , 2020.
I've been watching YouTube videos of what's going on in the Philippines. Thre's   a massive clearing up operations going on  ….City authorities  are basically getting rid of illegal vendors  and structures on public properties.  .  The capital city of Metro-Manila , Manila, has a new mayor, and it looks like he's very serious in cleaning up the city.  Metro-Manila is comprised of 16 cities and Manila is the capital,   the centre of government  but  due to decades of  neglect,   it's  become a cesspool. The city  has been invaded by squatters and illegal vendors. I've been watching the massive clearing-up operations againt  illegals…… I'm sorry, but I have little  sympathy for them. I am not anti- poor, but damn,  enough is enough !  !  These illegal vendors  have totally occupied major streets , avenues, and sidewalks ……and not only that,  they leave so much garbage on the streets….. it's anarchic and  almost criminal. Manila traffic  is one of the most chaotic  in the world because only 60%  are passable.  The new mayor, Francisco Moreno, has vowed to do the right thing .  So far, so good.  Mayor Moreno has now become a Rock Star in Pilippine politics. .
Illegal vendors obstruct traffic on secondary and tertiary roads. No vehicles can pass anymore.
Above is a major road in Manila,( Divisoria) one of many, that has been fully occupied by vendors.  Thieves,  ruffians,  street children ,   "solvent"  boys , snatchers, and  riff raffs mingle with shoppers,  unfortunately. .  I don't know how  shoppers protect  themselves from these bad elements  of society.
And the photo below is how  the same road looks like  when it was cleared , just a bit… Holy cow, , there's a 6 lane road under all that rubble ! !  Freakin' hell !
I hope Manila will look nice and clean  when we get  there. My co-worker  's coming with me.  I don't want my co-worker to have WTF moments during our vacation. But  we're going to Divisoria to shop.   We'll be  moving targets of  pickpockets…. . My  co-worker is  white .  And even though  I look like them,  for some reason, Filipinos  can recognize a non- citizen .  Or , am I just being paranoid ? We'll hold on tight  and close  to our purses , no expensive watches and jewellery on us, either.
We did go to Divisoria  in 2014.  Everything was dirt cheap, so freakin' cheap !     Haggling though  is " de rigueur "  in  Divisoria.  My accent was a give -away so my cousin did much of  the obligatory haggling for me. No tourist price, please.
Haggling  goes like this:
You buy 3 T-shirts, I'll give them to you for  450 pesos, Ma'am.  ( $ 9.00 )
I can get that for 300 pesos  (  $6.00 ) at WalMart.  ( I lie.)
Ma'm , that's below my capital….  I can give it to you for 400 pesos. ( $8.00 )
Is that the last price ? How about 350 pesos? ($3. 70)
375 pesos,  last price Ma'm.
Okay, sold.  ( My haul :   $7.50 for 3  nice T-shirts.  $ 2.50  each …..  Yay !  My awesome haggling power ! ! )
Then I saw similar T-shirts  at next store for 95  pesos each .(  $ 1. 90  )
Fail.
What can we buy in Divisoria? Everything, including wedding gowns.
The truth is, Manila is a beautiful city.  It has the biggest urban park in Asia, it's full of trees, and  has that old ,charming colonial ambiance . Filipinos , by the way, love fountains and water features…… Manila has lots of  these all over the city. If you're a tourist, just avoid  places with bad reputation, like Tondo, Divisoria, and areas north of Pasig River, the main river artery of Manila. It's sad because these places  are the old , historical Manila. The problem is,  that's where the "have nots"  had congregated, while  the "haves" left  to live in gated subdivisions in the suburbs…… and where new , modern, clean cities  subsequently sprouted around them… Makati City, Bonifacio Global City, Newport City, etc. … these cities are so  clean one can eat off the streets. Sadly, there's  an invisible wall that separates these areas from the "Great Unwashed" that is Manila..   For example, jeepneys and tricycles ( mode of transportation of the poor ) are not allowed into these cities… the ban  is  as  subtle as a battleaxe , no ?  " Keep off  our  beautifully manicured lawn. ."  That's what that ban means.  Well,   I don't blame them.  Let one in … the next morning you'll find hordes of  illegals selling their wares, peeing and pooping  everywhere, letting their minor children roam the streets, knocking on car windows begging for money , and if  you don't give , they'll  kick your car or scratch it with a rock…..they also   dump  garbage on the streets.
Beyond words.   The LEFTIST activists are saying the mayor wants Manila to become another place for the ELITES. ….. This is the reason why my politics  radar is inching from the left  towards the center. I 'm into social justice, but despise lawlessness.
But the truth is,  even though BGCity, Makati City, and the rest  of the metropolis have all the beautiful skyscrapers,   Manila is still  the centre of commerce in the Philippines.  Manila is the depository of all goods that come  from all over the Philippines and the world, and it's been like that since 1500 ( Spanish galleon trade ) .  Ironically, Tondo , a scary place today,  was the center of commerce  , even during  pre-colonial times.
Below  are photos of Bonifacio Global City and Makati City.
Below is the Trump Tower in Makati City
Above is Tondo in Manila…. that's reality… I'm  not hiding it, folks. … To be honest, this is even the "better " slum area.  I don't want to show anymore the worse of the worst.
But,  even though Manila has been left behind by neighboring cities, there's one thing  other cities do not have……character.
Below is the statue of the country's national  hero, Dr. Jose Rizal , located at Rizal Park ( or more commonly called Luneta , the largest  urban park in Asia )
Intramuros , or Walled City  ( Fort Santiago entrance photo, built in 1571 )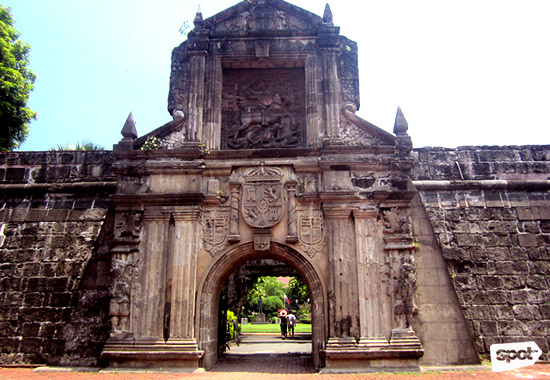 Charming old colonial architecture  , cobblestones…..
Manila Cathedral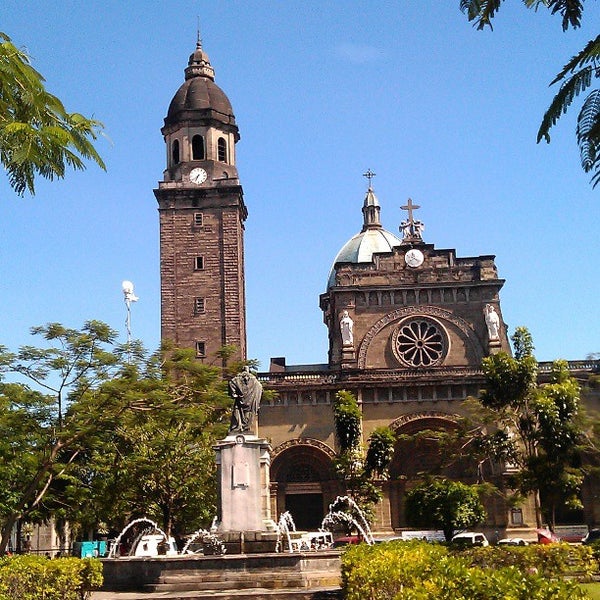 Below is University of Santo Tomas, built in 1611, the oldest university in Asia.  Next photo is Manila Baywalk..
The National Museum
And of course, the official residence of  the President of the Philippines:
Roxas Blvd. along Manila Bay, with world famous Manila Bay sunset.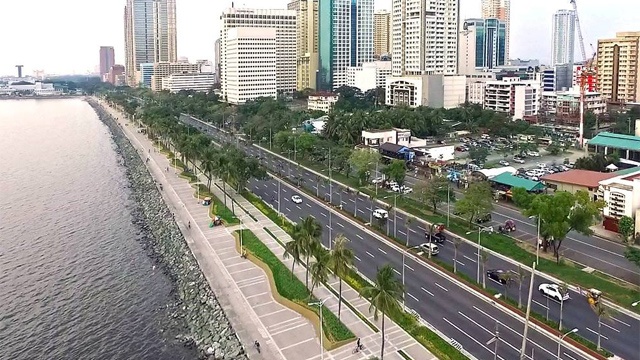 The new mayor of the capital city… Francisco "Isko" Moreno
By the way,  my photos here are messed up.  Some are  cut off, and others turn out too small. I can't fix it, sorry.
The new Manila mayor  loves to dance. Ha ha… Awesome.
A young and idealistic politician.  I hope he keeps his promise to bring  back the old glory of  the Queen City of the Orient.
Below is the Manila Post Office Building.
That's it….  I know  this post seems random and unorganized.  There are just  so much to talk about  that I don't even know where to start , and how to end my  thoughts.
Anyway, to see is to believe , and I'll see it 6 months.  Manila is my birthplace. I love the city, warts and all.
PS…. There will be a series of posts about the Philipines, especially about the dangers of  forcible  taking of  a group of small Philippine  islands on West Philipine Sea or ( South China Sea)  by you know what country….  This country wants to  own and dominate the seas  …..   and mess up the most protected  site in the world, the Philippine Tabbutaha Reefs.   The whole world should take note and pay attention ! !!    Please .